Party Trays
Why would you ever partner with anyone but Planet Sub for your catering needs? Our signature subs deliver satisfying experiences in every bite. We make it convenient for you to enjoy Planet Sub anywhere  by cutting our subs into 4-inch serving sizes. Perfect for your next conference, meeting, or social gathering with a party tray of sandwiches from Planet Sub.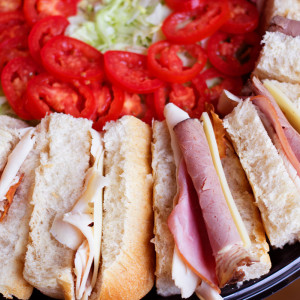 Sandwich Catering That's Always Satisfying
From our convenient delivery to our fresh, made-from-scratch bread, every aspect of our catering service is satisfying when you order a party tray from Planet Sub. And, if you have guests with special dietary restrictions, we can cater to their needs! We provide lettuce wraps, tortilla wraps, and baked breads that are available in an array of gluten-free, vegetarian, and vegan offerings. [.COLUMN_BREAK.]
Exercise Your Creative License
At Planet Sub, we aren't just another sandwich factory. We are creators, who have crafted some of the most savory sandwich combinations available. The great news? When it comes time to select sandwiches for your party tray, you can choose as many different combinations required to suite your catering needs. And, when we say as many combinations as your heart desires, we mean it! We grant you freedom to make a party tray as large as you want, with all your favorite subs; your appetite is your only limitation. Custom sandwich trays are available, just call in advance for large catering orders.
Place Your Order
When it comes to catering, Planet Sub  does it the right way. Our sandwich trays are a crowd-pleaser that your crew will ask for by name.
For catering details, call Planet Sub at — the oven's on and the bread's baking.